U.S. Military Veterans have served their country proudly. When Military Veterans raise their right hand to recite their oath of enlistment or oath of office (for officers), they say, in part, that they will "support and defend the Constitution of the United States against all enemies…" As they recite this phrase, the implication that is at the forefront of every one of their minds is that they may have to support and defend the Constitution with their very lives. They don't know if, when, or how it may happen, but they know they are swearing their commitment that, if and when called upon – as the Oath of Office says – they must be willing to do so "without any mental reservation."
Over the decades, countless numbers of Military Veterans have been called upon to confront enemies, and many have paid the ultimate price – over 7,000 U.S. Servicemembers have died in Iraq and Afghanistan in the past two decades alone, and over 50,000 have been wounded in action! Furthermore, of the 16 million Military Veterans who served in World War II, only about 240,000 are alive today. With the youngest of these heroes in their 90s, we lose around 234 of them every day. The Military Veterans who served during WWII and Operations Iraqi Freedom, Enduring Freedom, and Freedom's Sentinel – and every conflict and operation in between – deserve the best medical care that our nation can provide.
Remote Patient Monitoring Technology for Military Veterans
Telehealth, a technology that has gained popularity due to its increased use during the COVID-19 pandemic, is also being used to improve treatment for Military Veterans. Telehealth provides healthcare services to patients by utilizing technologies such as Remote Patient Monitoring (RPM)—enabling monitoring of patients outside the clinical environment such as in the home or in a remote area. Let's take a look at the top 3 benefits of RPM for Military Veterans:
1. Connecting Military Veterans and their Providers Wherever they are
Almost a quarter of all Veterans in the United States, or 4.7 million, return to live in rural areas after serving in the military. Closer proximity to family, friends, and community; open space for recreation; more privacy; lower cost of living; or less crowded towns and schools are all reasons why veterans choose rural communities. While there are many advantages to living in the country, military veterans may face healthcare challenges exacerbated by combat-related injuries and illnesses. The VA recognizes the importance of providing accessible care to rural Veterans and has set aside 32% of its healthcare budget for this purpose.
Getting to and from places is difficult for many of them. Travel distances, a lack of a vehicle, transportation costs, and insufficient infrastructure are all possible factors. For some people, going to the doctor once a month is a huge challenge, but when it comes to chronic care management, the frequency of visits often increases to several times a month, or even several times a week, depending on the patient's health needs. Many patients are unable to maintain this frequency and stop participating altogether. Remote Patient Monitoring is the answer to this problem because it is a powerful tool for meeting patients where they are while also addressing their chronic care needs.
DrKumo, Connected Health Technology Leader, is equipped with the robust Remote Patient Monitoring Technology that includes, but is not limited to, secure cloud-based application used for patient-generated health data transmission, easy to use medical devices with sensor fusion technology for Military Veteran patients, and a dashboard with rich visualization for healthcare providers. This next-generation RPM solution enables continuous real-time monitoring, connecting Veterans and their care providers wherever they are.
2. Enabling Military Veterans to Play an Active Role in Managing their Own Health
According to National Health Statistics Reports issued in February 2021, Military Veterans had a higher age-adjusted prevalence of Multiple Chronic Conditions (MCC) than non-veterans among adults aged 25 and up (22.2% compared to 17.0% for men aged 25–64, 66.9% compared to 61.9% for men aged 65 and up, 25.4% compared to 19.6% among women aged 25–64, and 74.1 percent compared to 61.8 percent among women aged 65 and up). Following age stratification and adjustment for selected sociodemographic characteristics, the prevalence of MCC among veterans remained higher than among nonveterans for both men and women.
In terms of solutions, the current COVID-19 pandemic has prompted an increase in immediate solutions to foster innovative medical and mental health service delivery. Telehealth has quickly emerged as a viable option. In light of the pandemic, the Veterans Health Administration (VHA) and the Defense Health Agency (DHA) have stepped up and expanded previously established telehealth and telemental health (TMH) procedures to address the rapidly changing landscape of service provision. But for this to be successful, patients should play an active role in managing their conditions.
With Remote Patient Monitoring, patients are more likely to become more actively involved in their care due to the physical action and frequency of collecting health data information. DrKumo RPM-HT features live data streaming of patients' vital signs. Thus, their immediate health situation and needs are right in front of them, reminding them to take their medications, eat healthier, and exercise. Moreover, patients become more actively engaged in their overall health and recommended treatment plan when RPM is combined with virtual interactive communication with their healthcare provider.
3. Improving the Quality of Life through Remote Patient Monitoring Technology
Military Veterans have made significant sacrifices for our country, and they face health issues that are distinct from those faced by civilians. After the service, one of the goals of the Military Veterans is to improve their quality of life.
Remote Patient Monitoring enables real-time continuous transmission of health data measurements, so patients can see their progress and become more engaged in making the lifestyle changes and treatment specifically required to reach their health goals.
Early detection of diseases is critical for disease prevention and health promotion. Remote Patient Monitoring help save lives by identifying health issues at the earliest possible stage when treatment is most effective and yields the best results.
RPM allows for continuous and real-time health monitoring from afar. While sitting comfortably on a couch at home and enjoying quality time with family, a patient's vital signs can be collected, stored, and transmitted. On the other hand, providers can view these vital signs in their dashboard immediately after or even during their rounds at work.
What does DrKumo do to help the Military Veterans
DrKumo has the utmost respect for these Veterans' sacrifices, and that is a driving reason behind what inspires what we do to help support the Veterans who have survived our nation's conflicts, wherever they have served.
The most practical way that DrKumo can honor our Veterans' service is to help improve their quality of life by providing Remote Patient Monitoring-Home Telehealth (RPM-HT) medical technology to them and their providers. DrKumo's RPM-HT enables Veterans and their providers the ability to manage chronic diseases, provide acute care, and supervise post-operation and hospital care from the comfort of the Veteran's home, where they can be surrounded by family and friends and be better able to live a regular life by not having to be physically tied to a medical facility. In other words, RPM-HT provides better, more comprehensive medical care to Veterans while also affording them more freedom to live productive lives after their years of Military service.
On November 11, 2021— Veterans Day, DrKumo participated in the Veterans Wellness Event to check the vital signs of Veterans and their families using DrKumo Remote Patient Monitoring devices such as blood pressure monitor, pulse oximeter, digital scale, blood glucose meter, and ECG-enabled smartwatch. Here are some photos from the event with DrKumo CEO Dr. Kelly Nguyen, and DrKumo health and technology experts.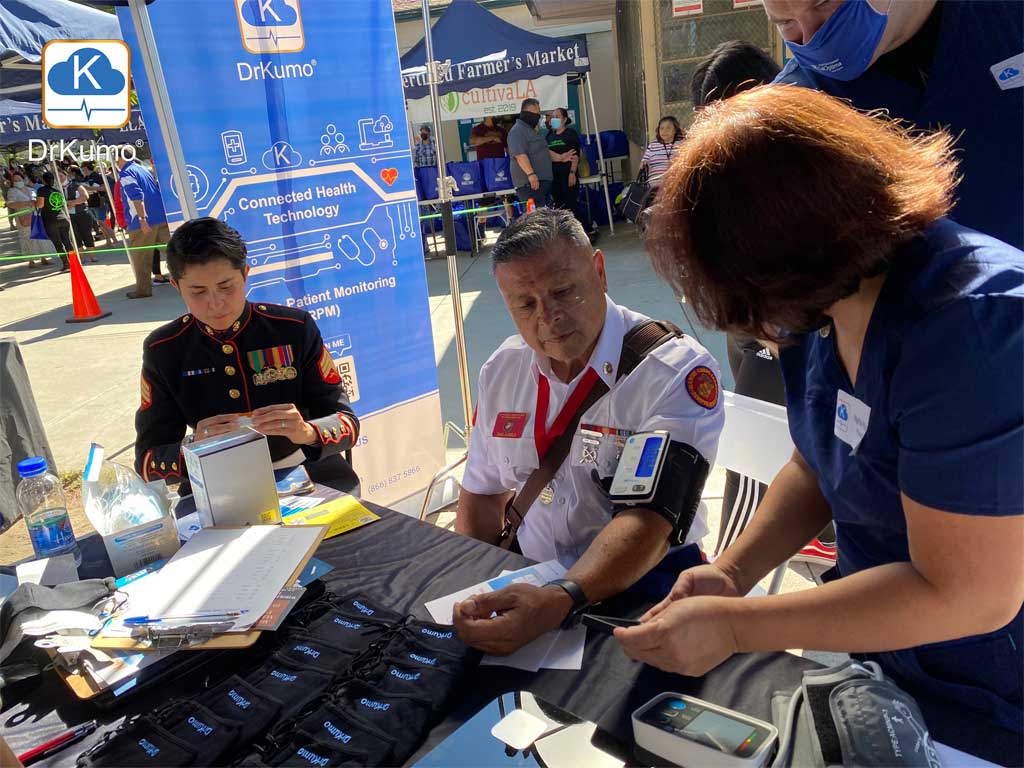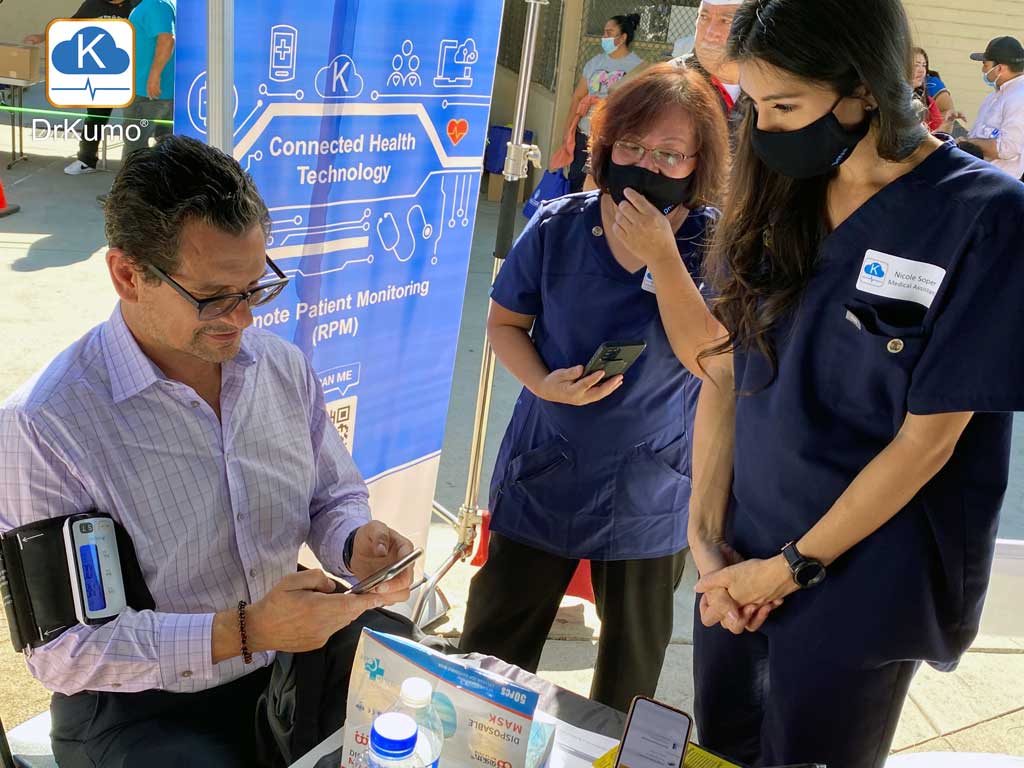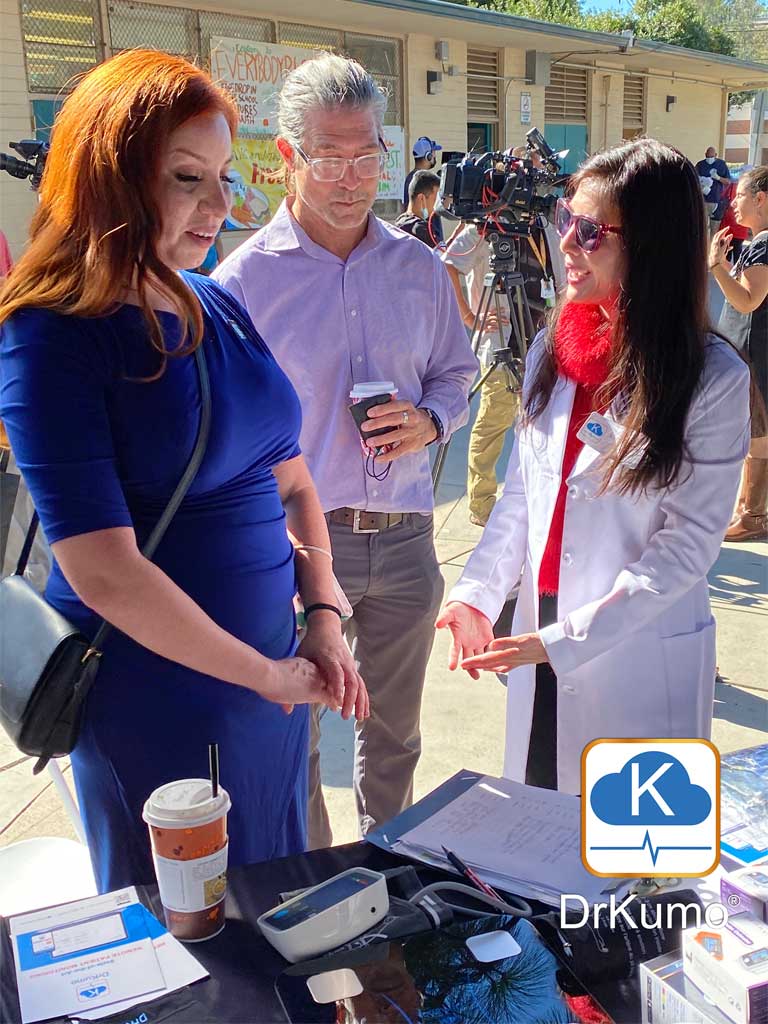 Aside from providing the best Remote Patient Monitoring technology for Military Veterans, DrKumo is an outspoken Service-Disable Veteran (SDV) friendly corporation. DrKumo actively hires SDVs and other U.S. Veterans because we recognize their proven work ethic and honorable dedication to America's freedom, and in acknowledgement of the sacrifices they and their loved ones have made – and continue to make – for their country.
DrKumo also partners with Native American Veterans Association (NAVA) to introduce next-generation Remote Patient Monitoring to tribal and non-tribal veterans. Read more: DrKumo-NAVA partnership.
To know more about how Remote Patient Monitoring technology helps the Military Veterans, contact DrKumo.