As wearable technology rapidly gains popularity, it is no surprise that wearable medical devices are also beginning to take off.
Wearable medical devices have many potential applications in the healthcare industry. Wearable devices can improve patient care, track personal health data remotely, and even prevent patient deterioration or health problems before they occur. So, in this article, we will talk about the overview, the benefits, and the top five examples of wearable medical devices.
What Are Wearable Medical Devices?
They are IoT ("internet of things") or smart devices worn directly on the body and are used to track and monitor various vital signs, such as heart rate, blood pressure, and oxygen levels, via health apps.
There are now a wide variety of wearable devices available such as wearable blood pressure monitors, electrocardiogram (ECG) patches, sensor gloves, fitness trackers, etc., and they are being adopted by healthcare providers worldwide.
Combined with mobile technology, these electronic devices can prevent diseases and monitor various medical conditions, such as diabetes, sleep disorders, and lung diseases like asthma.
The Adoption of Wearable Medical Devices in Healthcare
There is no doubt that there is a growing demand for these devices to be used in health care. There are already several companies that are implementing this technology in a range of different ways.
Some hospitals use wearable sensors to track patient data such as blood oxygen saturation, calories burned, sleep quality and sleep patterns, body temperature, respiratory rate, etc., while others use medical wearables to monitor patient recovery after surgery.
There are endless possibilities for how wearable technology can be used in healthcare; as the technology continues to evolve, we're only going to see more amazing innovations.
The Benefits Of Wearable Technology For Patients And Healthcare Providers
The combination of digitalization, artificial intelligence (AI), and machine learning in wearable devices has helped many industries, especially healthcare.
Real-time Access to Patient Health Data – In the United States, around 60 million people live in rural areas that are often underserved by healthcare services that are common in more urban locations. Patients may confront barriers such as distance, travel, and cost. Wearable medical devices make it easier for patients to receive proper care because these technologies provide real-time data tracking at a distance.
Improved Medication Adherence – Wearable devices can benefit patients in various ways, such as by regularly sending them notifications about their medications. These devices can continuously track patient data, and based on that collected data, they may receive alerts on their mobile device if their health data exceeds pre-set limits based on their customizable disease management programs (DMP). This allows healthcare professionals to more effectively treat changes in their patients' illnesses by ensuring that medication is taken as prescribed.
Improved Efficiency and Medical Staff Capacity – According to the Association of American Medical Colleges (AAMC), there may be a shortage of more than 100,000 general and specialty-care physicians by 2034. Wearable medical devices allow doctors, nurses, and other clinical staff to monitor patients whether they are in the hospital or at home. With patients' physiologic data remotely measured in real-time, hospitals can free up beds, doctors can keep an eye on patients' vitals regardless of location, and efficiency improves. Wearable medical devices allow doctors, nurses, and other clinical staff to monitor patients whether they are in the hospital or at home. With patients' physiologic data remotely measured in real-time, hospitals can free up beds, doctors can keep an eye on patients' vitals regardless of location, and efficiency improves.
Improved Patient Outcomes – Wearable devices enable patients and their doctors to make more informed health decisions. For instance, connecting Electronic Health Records (EHR) and wearables benefits primary care and chronic care patients. It provides up-to-date and quick access to complete information about patient health and helps medical practitioners reduce medical errors and provide safer care. This helps to identify potential problems early on before they become serious health concerns, which in turn improves patient health outcomes.
Top 5 Wearable Medical Devices
There are a lot of different health and wellness wearables on the market these days, and they all offer different features. Some are geared toward athletes, while others are designed for people trying to lose weight or manage a chronic illness.
1. Wearable Health Watches / Fitness Trackers
One of the latest trends in healthcare is wearable health technology, which includes health watches and other smart devices. Wearable health watches are designed to track vital signs, from heart rate and blood pressure to steps taken and burned calories. They can monitor sleep quality, support fall detection, and track medication adherence.
According to an Insider Intelligence study, over 80% of customers are willing to wear fitness technology. Wearable fitness technology trackers are often wristbands with sensors connected via the internet or the user's electronic devices for tracking and recording. These trackers include capabilities like goal setting, sleep tracking, exercise tracking, calorie tracking, heart monitoring, and step counting.
The fitness tracker is one of the simplest and most inventive types of wearable technology. Connecting with various smartphone apps gives wearers reminders or advice on their health and fitness. Whether preparing for a marathon or simply wanting to be more active, these smart devices can help users better understand their everyday activities.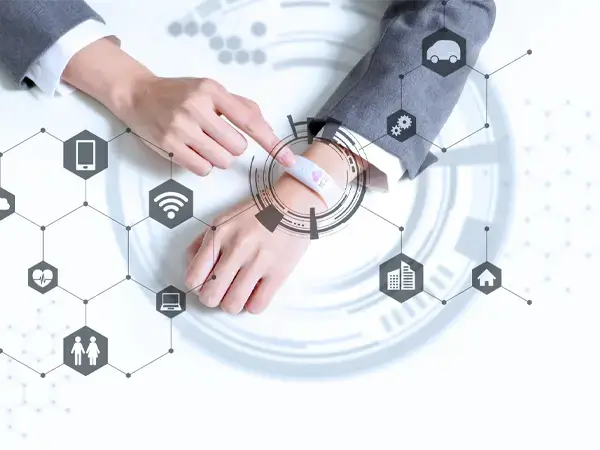 2. Wearable Blood Pressure Monitors
A wearable blood pressure monitor detects blood pressure at the wrist to a clinical level. This kind of blood pressure monitoring allows people to understand how their lifestyle influences their readings. It may enable people to make more data-driven decisions about their diet and everyday activities, lowering their risk of serious illness.
Measuring blood pressure using at-home blood pressure cuffs may be inconvenient for some elderly patients and can lead to errors in readings due to improper fit of the bands and arm positioning. A wearable blood pressure monitor is a good solution to ease this burden by automating the collection of blood pressure and transmitting the data collected to connected devices.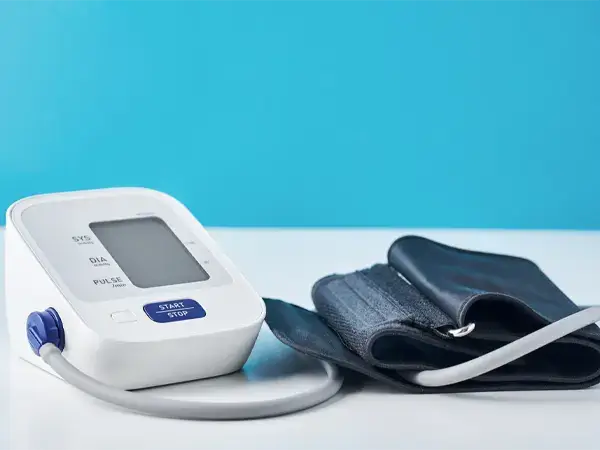 3. Continuous Glucose Meters
A continuous glucose monitor (CGM) is a small device that helps manage blood sugar levels for people with diabetes. The CGM system consists of a sensor that is usually placed on the abdomen or upper arm, and a transmitter that sends data to a display device, such as a smartphone or watch.
The sensor measures glucose levels in the fluid between cells and sends data to the transmitter every 5 minutes. The transmitter then sends data to the display device. The display shows real-time glucose readings, trends, and alerts.
The CGM system can help people with diabetes manage their blood sugar levels by providing real-time data that can be used to make treatment decisions. For example, if the CGM system shows that the patient's blood sugar is rising, the patient may need to take more insulin.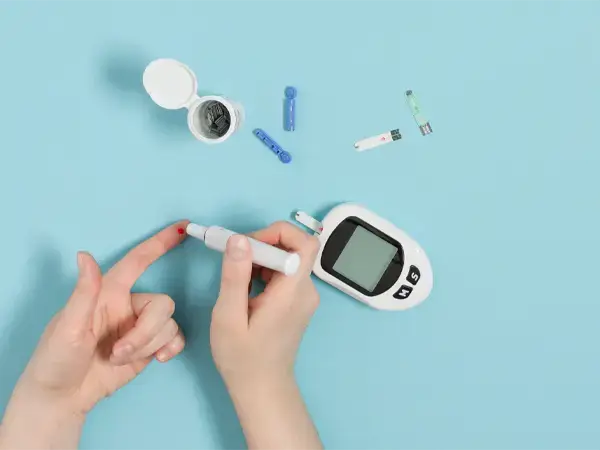 4. Wearable ECG Monitors
An ECG monitor, or electrocardiogram, is a device that records the electrical activity of your heart. This data can diagnose an arrhythmia, atrial fibrillation, and heart failure.
The wearable device is worn like watches or patches. They can alert you if there is a problem with your heart rhythm, and they can also help your doctor diagnose any heart-related or cardiac conditions.
Wearable ECG monitors are a great way to keep track of your heart health, and they can give you peace of mind that you are doing everything you can to protect your heart.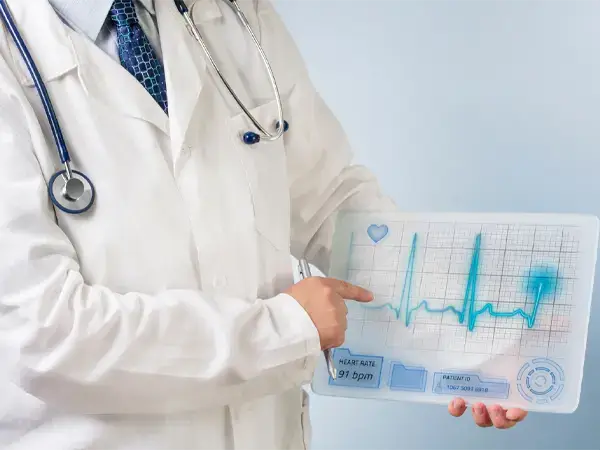 5. Wearable Biosensors
There is an increasing demand for digital wearables with biosensors for health care use that differ significantly from wrist trackers and smartwatches. One example is a self-adhesive patch that enables patients to move while collecting data on their mobility, heart rate, respiration rate, and temperature.
Flexible and stretchable biosensors can make health data analysis more accurate and comfortable for the patient. This is important for diagnosing diseases, treating them, and managing health.
According to Augusta University Medical Center research, this wearable technology reduced patient deterioration into preventable cardiac or respiratory arrest by 89%. This highlights wearables' ability to improve health outcomes while potentially reducing staff workload.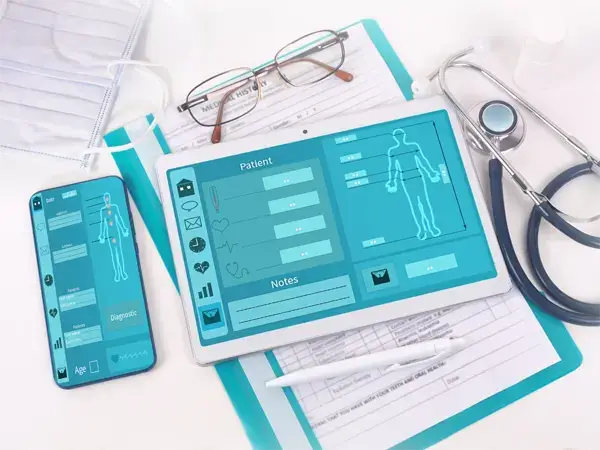 Real-Life Applications Of Wearable Technology
Wearable healthcare technology offers innovative solutions for healthcare problems, including disease prevention, health maintenance, and patient management. This technology can potentially improve patient outcomes while reducing the cost of care. Here are some examples of real-life applications of wearable healthcare technology.
1. Monitoring Health Conditions
Wearable medical devices enable continuous monitoring of a person's physical movements, behaviors, and physiological and biochemical data while they go about their daily lives.
For instance, medical wearables could help with some of the issues associated with diagnosing and managing poor health status in aging populations. These technologies have enormous promise for treatment optimization and fall prevention among the elderly.
Some examples of wearables used to monitor health conditions include wearable spirometers, ECG patches, and hemodynamic/pressure monitoring devices. These are used for respiratory rate monitoring for patients with COPD or asthma, monitoring of blood glucose levels of patients with diabetes, and monitoring of COVID-19 patients' body temperature or blood oxygen through a telehealth system like RPM.
2. Delivery Of Patient Therapy
Wearable medical devices are a valuable tool in delivering patient therapy. They provide remote monitoring, personalized therapy, and real-time data that can help improve patient outcomes.
In a study by Burridge and colleagues (2017), the researchers developed a wearable device for patients with stroke. The device has embedded inertial and mechanomyography sensors, algorithms to classify functional movement, and a graphical user interface to present meaningful data to patients to support a home exercise program. The device was used to monitor activity and provide feedback to patients and therapists in a stroke rehabilitation program. The study found that the device was effective in helping patients regain function and improve their quality of life.
Other use cases include the management of cardiac rhythm, monitoring diabetic patients' insulin intake, pain management, and posture correction.
3. At-Home Or Hospital-Based Rehabilitation
Wearables are increasingly demanded in the medical field, especially for patient rehabilitation. The key advantage of wearables is that they allow medical staff to precisely capture data on how patients perform physiotherapy exercises and monitor rehabilitation efficiency and patients' vitals during the exercises. This allows for a more customized and effective rehabilitation experience for patients, whether they are at home or in the hospital.
Some examples are stroke rehabilitation using smart gloves, cardiac monitoring, home care for chronically-ill patients, joint improvement monitoring after bone fractures, etc.
Utilizing wearables for at-home or hospital-based rehabilitation can help save lives by allowing continuous and remote monitoring, early detection, and intervention in potentially dangerous situations.
4. Early Detection Of Diseases
Wearable diagnostics devices can identify symptoms that may not have been present during doctor appointments. These devices are prescribed by doctors to patients who have heart disease and who experience infrequent, intermittent symptoms like heart palpitation or respiratory rate irregularities for monitoring to help improve patient health outcomes.
Several wearable devices can be used for early disease diagnostics. These include skin temperature sensors, perspiration sensors, heart rate monitors, and glucose monitors. Holter monitors can also be useful for this purpose.
These devices monitor patients with chronic health conditions, such as prediabetes, detect atrial fibrillation or other cardiac diseases, and provide complex diagnostics of neurological conditions.
5. Tracking Of Physical Activity
Wearable physical activity trackers are intended to improve patient health and quality of life. Various smartphone apps can collect data via wearables that track physical activity, monitor your energy consumption, and see how active you are daily. This information is available to you in the form of an activity report, which your doctor can use to give you recommendations for improvement.
Some examples of wearable activity-tracking devices are smartwatches, skin temperature sensors, and perspiration sensors. These are used for physical activity monitoring of patients with cardiovascular diseases, cancer, and rheumatic diseases and for those patients who underwent bariatric surgery.
Users who want to avoid a sedentary lifestyle and manage their own health and wellness can also use fitness devices to track their physical activity.
What Is The Future Of Wearable Technology In Healthcare?
Wearable technologies have grown dramatically in the medical market over the last several years, and the healthcare sector is amidst a technological revolution.
According to GlobalData, the wearable tech market was valued at approximately $46 billion in 2022 and is predicted to reach more than $100 billion by 2027, growing at a compound annual growth rate (CAGR) of 17%.
This growing demand and recent advancements in wearable devices add value to healthcare by focusing on monitoring and prevention. Some examples are early diagnosis, remote patient monitoring, electronic health records, and better decision-making while also lowering healthcare costs.
According to Insider Intelligence, the increased demand for wearables has created a thriving market, and insurers and companies now realize the benefits of providing wearable health technologies to their customers and staff.
According to GlobalData's clinical trials database, there are approximately 160 planned or active clinical trials for wearable devices. The most commonly addressed indications include: cardiovascular diseases, nervous system disorders, infectious diseases, nutritional and metabolic diseases, orthopedic diseases, respiratory tract diseases, cancer, women's health, urologic, and hematologic diseases.
Takeaway
As wearable technology becomes more commonplace in our everyday lives, it is no surprise that it is also making its way into the healthcare field, and making a hugely positive impact on patients' lives.
A goal worth striving for is to eventually have a world where everyone has a personal health monitor that they can wear all the time so they can be in better control of their own health. This would also provide doctors and nurses a real-time comprehensive understanding of their patients' health, help them diagnose problems earlier, and provide more timely and effective treatment.
Contact us if you want to revolutionize your medical practice using medical wearable devices and remote patient monitoring.